10 of the best cocktail bars in Berlin
Berlin's best cocktail spots offer a blend of classic drinks and innovative tipples, says Slow Travel Berlin founder Paul Sullivan
Beckett's Kopf
It's unmarked save for an eerily glowing photograph of Samuel Beckett in the window, so you'll need to ring a doorbell to gain access to this Prenzlauer Berg bar. Inside are two elegant, dimly lit rooms (one reserved for smokers) with low tables and chesterfield sofas. The comprehensive drinks list – ensconced between the pages of a Beckett tome – is divided into sections such as fresh and funky, and herbal and floral, and always features seasonal specials. The ice is hand-cut, and staff are happy to tailor-make drinks for the undecided. Absinthe fans may wish to sample the bar's take on the classic Monkey's Gland, made with English marmalade.
•
Pappelallee 64, Prenzlauer Berg, +49 162 237 9418,
becketts-kopf.de
. Open Tues-Sun from 8pm
Bebel Bar and Lounge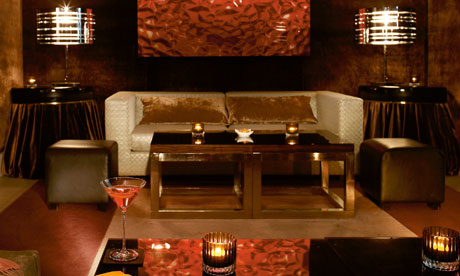 Rocco Forte's Hotel de Rome is one of the city's most sumptuous accommodation spots; it also houses one of its finest cocktail bars. Adjacent to the impressive reception area, the Bebel Bar continues the hotel's theme of contemporary elegance, with high ceilings featuring original stucco. Bebel attracts a five-star clientele and its drinks list, which has more than 60
cocktails
, contains many high-end and rare spirits: the Donna Prugna features cognac from Charente in south-west France, 10-years-aged tawny port, and ginger beer, and you'll find drinks featuring cognac from Grande Champagne and Italian choice vodka from the region of Ghemme.
•
Hotel de Rome, Behrenstrasse 37, Mitte,
,
hotelderome.com
. Open daily from 9am-1am
Green Door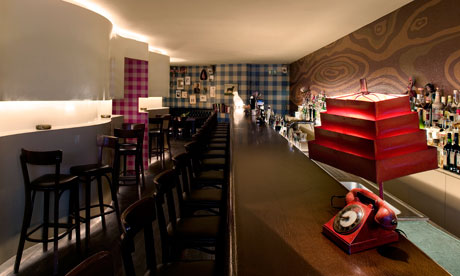 Tucked away in bohemian Schöneberg, the chosen stomping ground for everyone from
Christopher Isherwood
to David Bowie over the years, Green Door is a veteran "locals" spot that takes its drinking seriously. Owner and playwright Fritz Müller-Scherz opened the bar 15 years ago to promote what he calls "the power of positive drinking". Hiding behind the rudimentary green sign and nondescript curtains lurks a kitsch interior that's all gingham wallpaper, 70s framed photos and a dog mascot that rests on the bar. The cocktail list is impressively long, features specials every month and includes the bar's eponymous signature drink, a mix of champagne, lemon, sugar, and mint.
•
Winterfeldtstrasse 50, Schöneberg,
,
greendoor.de
. Open Sun-Thurs 6pm-3am, Fri-Sat 6pm-4am (happy hour 6pm-9pm)
Buck and Breck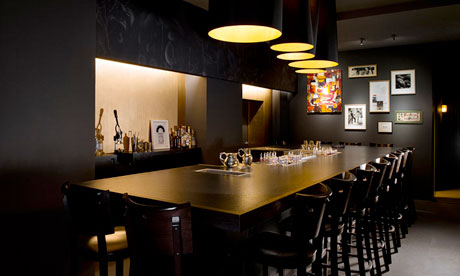 The newest and most low-key of
Berlin
's cocktail spots, this tiny black room, named after former American president
James Buchanan
and his vice-president, John Breckinridge, occupies a prime location in Mitte. It's disguised as an art gallery from the outside – the sole window is usually blocked out with crates or quirky decor – and the dark interior has enough room for just 14 people, seated around a large, square bar (no standing allowed). Owners Gonçalo de Sousa Monteiro and Holger Groll churn out exquisite drinks such as the eponymous house special: a tasty, muscular mix of cognac, bitters, absinthe and champagne, from a small but perfectly formed menu that's heavy on the arcane and historical. Reservations recommended.
•
Brunnenstrasse 177, Mitte, no telephone,
buckandbreck.com
. Open daily from 8pm
Newton Bar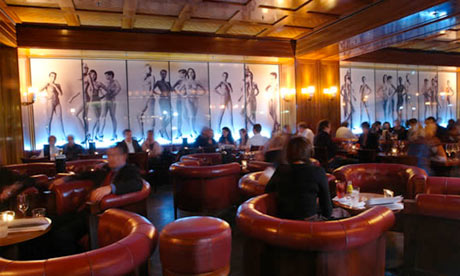 With its characteristic red-leather seats and imposing 18ft photographs of stiletto-heeled nudes, this classic cocktail bar bows deeply to renowned fashion photographer
Helmut Newton
. The upmarket atmosphere is emphasised by heavy oak tables and a lavish, colourful bar that serves up a wealth of distinguished drinks: superbly mixed classics like Manhattans and Martinis as well as "city specials" such as the Metropolis Berlin, which features Jägermeister, and the Shanghai, which has lychee and plum. There are also direct views on to the Gendarmenmarkt through large picture windows. Expect to mingle with businessmen, fashionistas and well-heeled tourists. An upstairs cigar lounge is available for private tête-à-têtes.
•
Charlottenstrasse 57, Mitte,
,
newton-bar.de
. Open Sun-Thurs 10am-3am, Fri-Sat 10am-4am
Reingold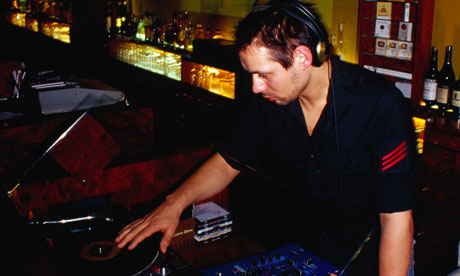 Reingold's 1930s speakeasy theme is supported by a cast of bartenders with slicked-back hair, braces and cigarette lighters at the ready. Frequented by office workers, hipsters and local barflies, the long, narrow room has amber-painted walls, a giant mural of Thomas Mann's children Klaus and Erika, and some German bar snacks for peckish punters. The soundtrack switches between swing and Motown and the staff are well-schooled in classics, as well as seasonal drinks: the One in a Million is a fruity-herby blend of aged Indian rum, fresh lime, rosemary, pineapple juice and vanilla liqueur, and the Chocolate Agavioni tweaks the classic Negroni cocktail by blending 100% agave tequila blanco with campari, sweet vermouth and chocolate liqueur.
•
Novalisstrasse 11, Mitte,
,
reingold.de
. Open Tues-Sat 7pm-4am
Shochu Bar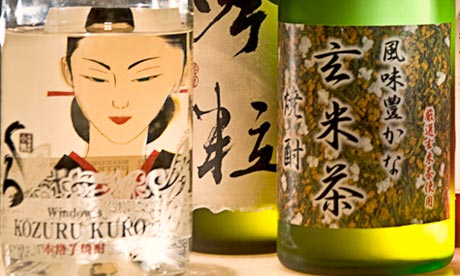 For something a little different, try the Shochu bar, an addendum to the well-received Uma Japanese restaurant in the centre of town. As the name suggests, Shochu serves special cocktails made from the potent
Japanese liquor of the same name
, which is made from distilled rice or potato. They're lovely, fragrant things served with exotic elements such as saffron, bergamot, yuzu, cardamom, Nashi pear, sesame, green tea or jasmine blossoms – as well as classic, cognac-based drinks and gin martinis. Being located close to
Unter den Linden
, the clientele tend to be dressy and well-manicured, though DJs at weekends play chill out and more.
•
Behrenstrasse 72, Mitte,
,
ma-restaurants.de
. Open Mon-Sat 6pm-2am
Victoria Bar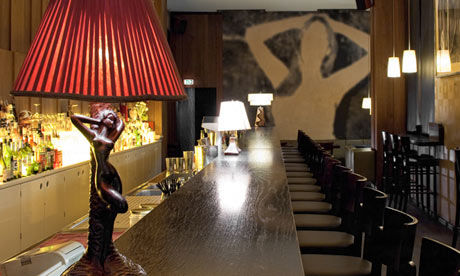 Before Potsdamer Strasse turned into a hip hangout, the Victoria Bar was first to bring a dash of class to the area. Its award-winning interior features a classic wooden bar and walls decorated with satirical artworks by the likes of Sarah Lucas, Marcel Dzama and Martin Kippenberger. Popular with a refined yet unpretentious clientele, the Victoria offers expertly mixed drinks: try the Prince Charles, a heady mix of cognac VS, apricot brandy, angostura and champagne, or the psychedelic Sun Ra, which blends tequila, mezcal, Old Pascas 73°, dry orange, almond syrup, and fresh lemon and lime to aptly psychedelic effect. Cocktail classes are available at the venue's School of Drunkenness.
•
Potsdamer Strasse 102, Tiegarten,
,
victoriabar.de
. Open Sun-Thurs 6.30pm-3am, Fri-Sat 6.30pm-4am (happy hour 6.30pm-9.30pm)
Windhorst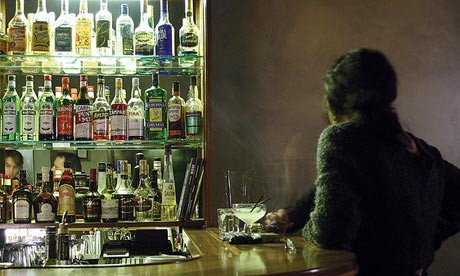 Despite being a briefcase-lob from the US Embassy, this quiet, one-room bar is far from a haunt for diplomats. Owner Günter Windhorst has crafted a place that's loose-limbed and intimate, egged on by his own jazz and Latin collection (vinyl only), and paintings of jazz musicians on the wall. There's an emphasis on American-style drinks within the 52-page menu but innovative touches balance out the classics (try the lemongrass Gimlet – an exotic adaptation of the gin and lime juice classic. It's a great place for a pre- or post-theatre tipple – or just settle in at the bar and watch the staff apply their craft with impressive diligence.
• Dorotheenstrasse 65, Mitte, , no website. Open daily from 6pm (9pm Sat-Sun)
Würgeengel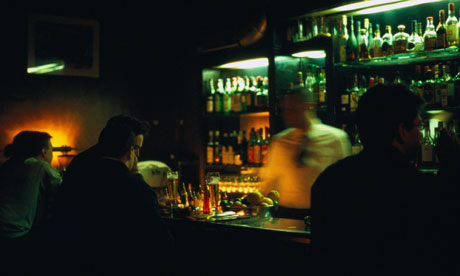 Würgeengel means "Exterminating Angel" after the
Luis Buñuel
film – and is much easier to pronounce after a few drinks. One of the city's more relaxed cocktail bars, it matches a winsome, old-school interior (leather booths, candles on wooden tables, a glass-latticed ceiling) with a drinks menu that has great cocktails and a fine selection of whiskies and wines from Veuve Cliquot and Dom Pérignon to great rieslings from Rheinhessen and deep red riojas that go with the tasty, well-priced tapas (large mixed plate €10.50, tapas-for-two for €16). There's good Italian food at the Gorgonzola Club next door, and the atmosphere retains a pleasant neighbourhood feel.
•
Dresdener Strasse 122, Kreuzberg,
,
wuergeengel.de
. Open daily from 7pm